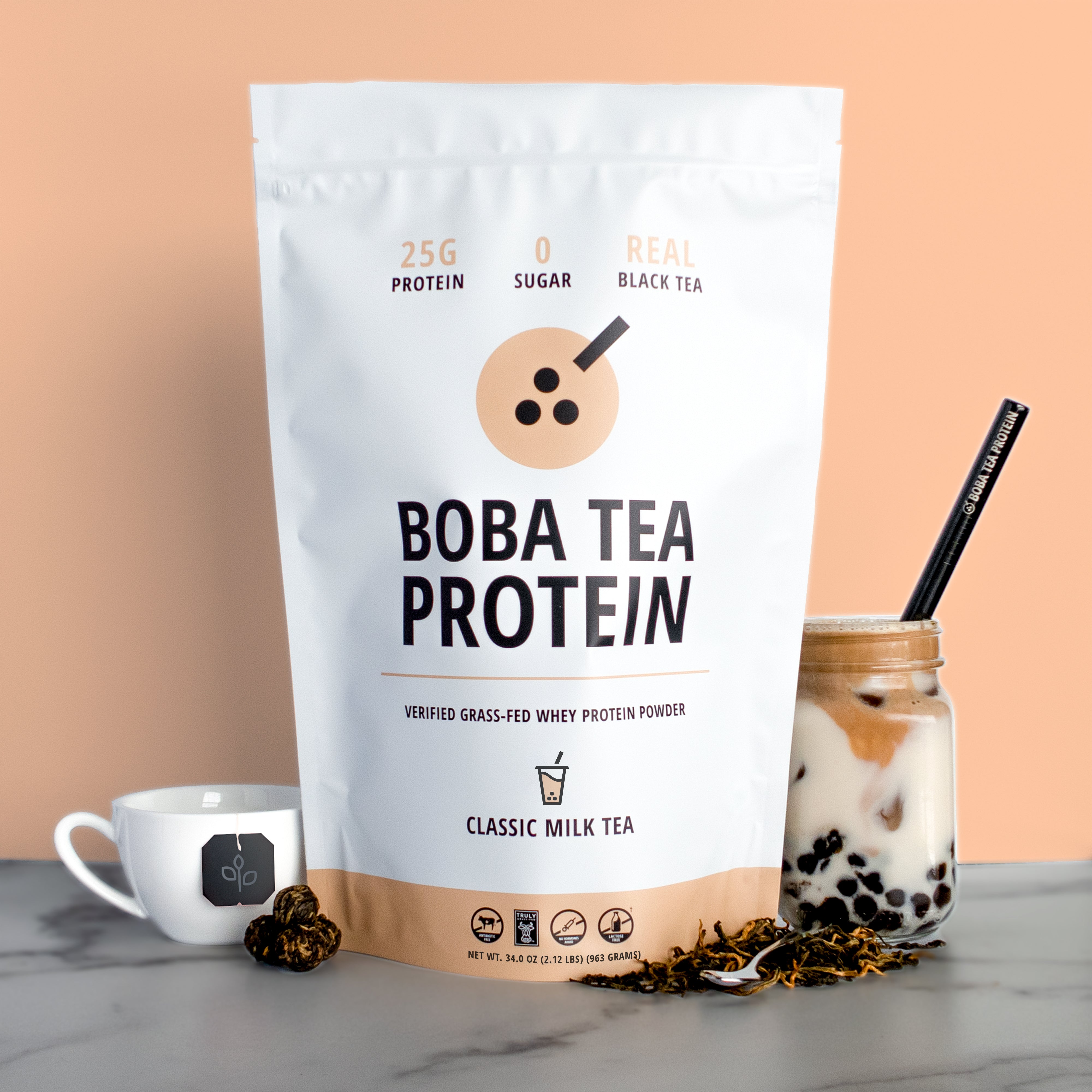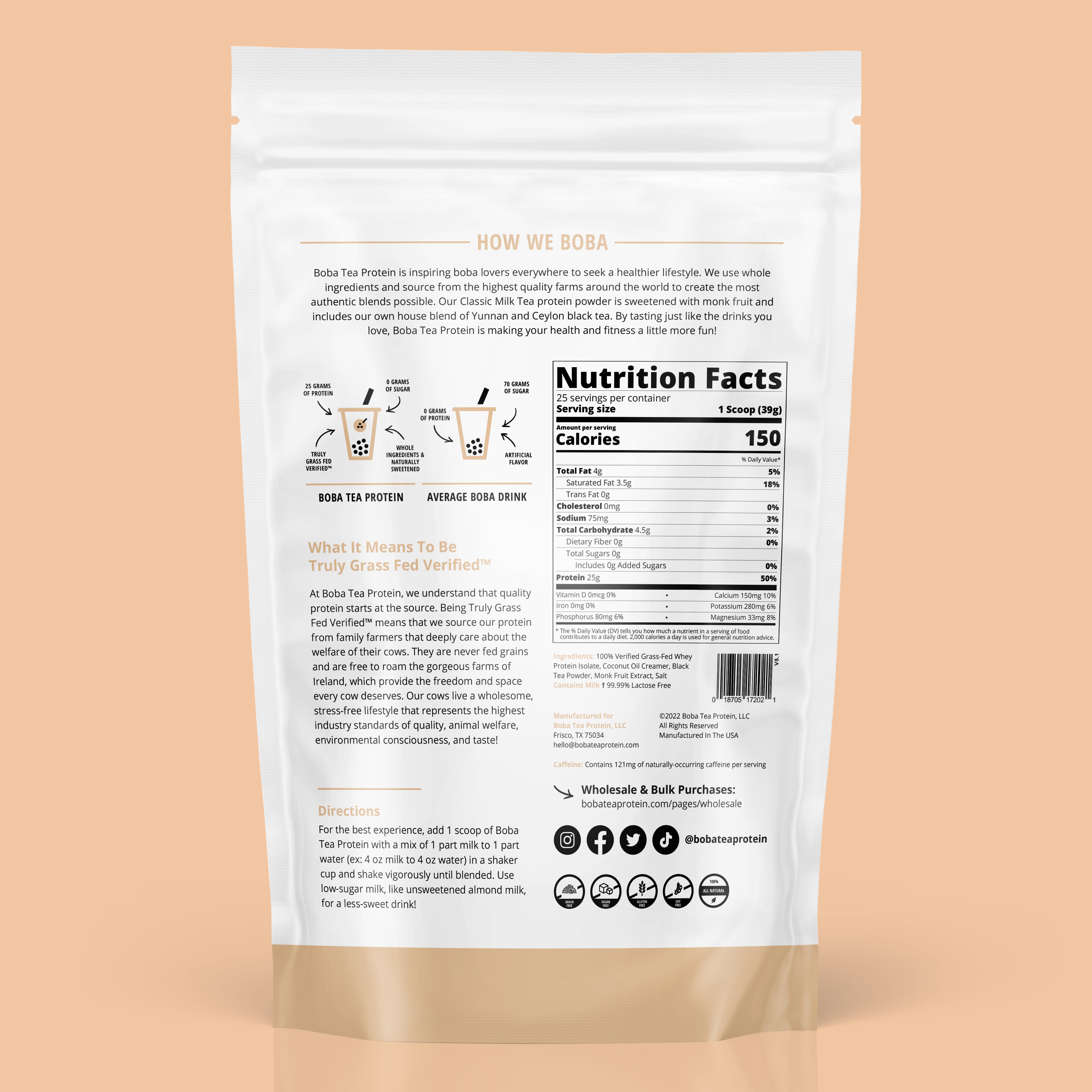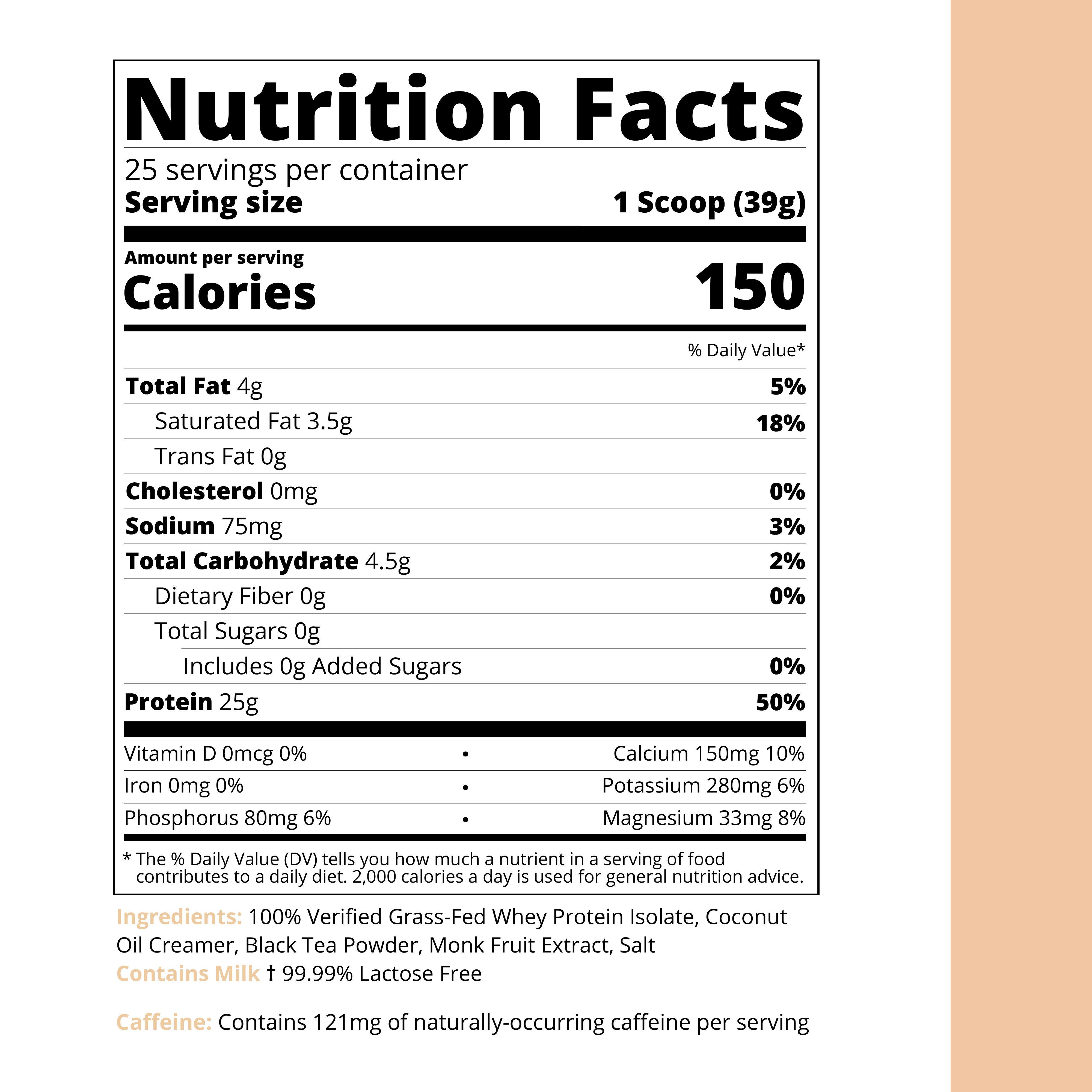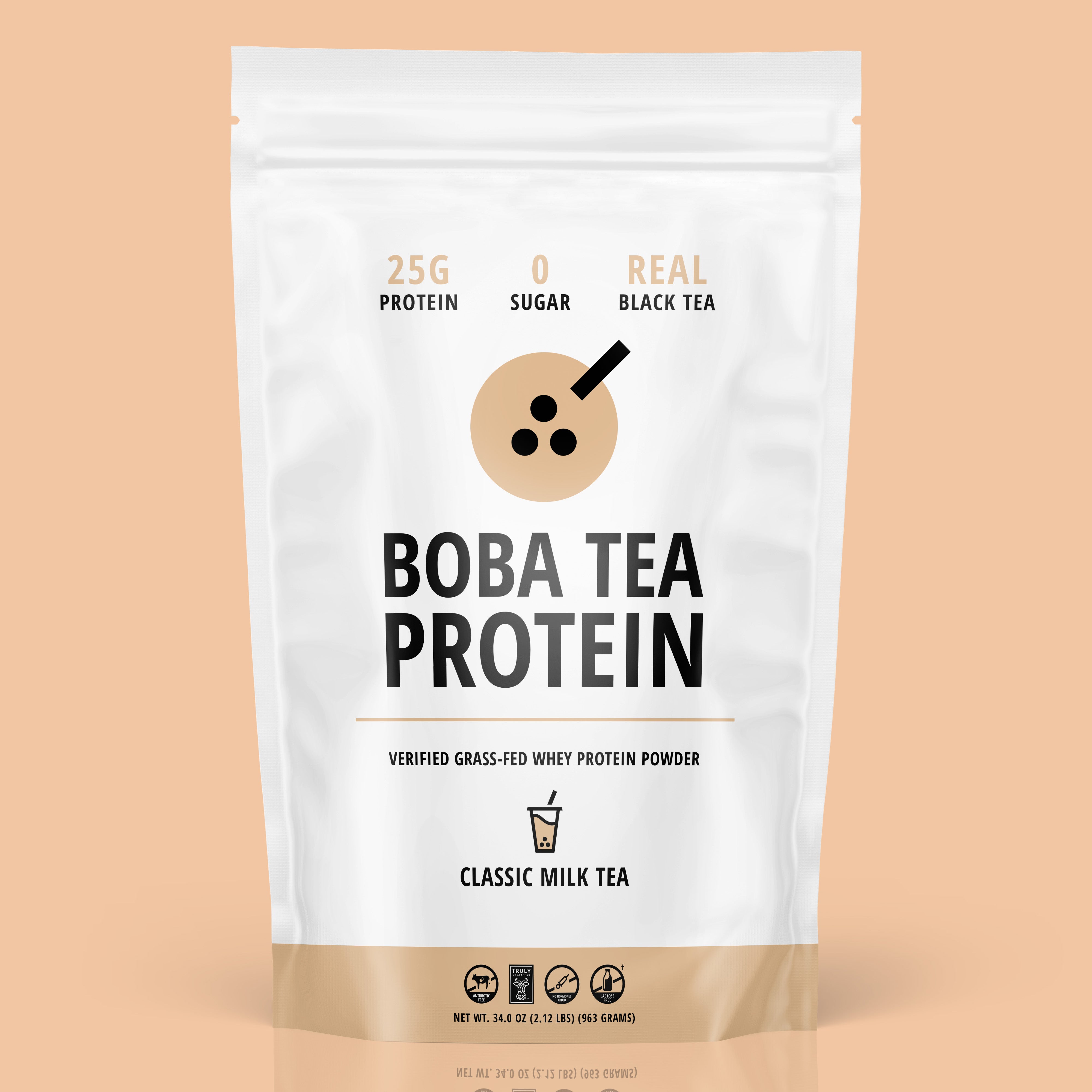 Classic Milk Tea
Sale price

$47.99
Regular price
(/)
The decision to include real black teas in our Classic Milk Tea drink was a no-brainer.
Sourcing golden black and black teas from the Yunnan and Assam regions gives you a small caffeine rush and a desirable, light maltiness that can only be attained by using real teas.
Teas are a great source of natural antioxidants and polyphenols!
Key Features

A house blend of Yunnan golden black and Assam black teas

All-natural coconut extract creamer

Great natural source of antioxidants and polyphenols

25 grams of Truly Grass-Fed Verified™ protein

Sweetened with all-natural, zero-calorie monk fruit

25 Servings
NUTRITION FACTS & INGREDIENTS

 

Nutrition Facts

25 servings per container 
Serving Size: 1 Scoop (39 grams)

Amount per serving
% DV
Calories
150
Total Fat
4 g
5%
   Saturated Fat
3.5 g
18%
   Trans Fat
0 g
Cholesterol
0 mg
0%
Sodium
75 mg
3%
Total Carbohydrate
4.5 g
2%
   Dietary Fiber
0 g
0%
   Total Sugars
0 g
      Added Sugars
0 g
0%
Protein
25 g
50%
Vitamin D
0 mcg
0%
Calcium
150 mg
10%
Iron
0 mg
0%
Potassium
280 mg
6%
Phosphorous
80 mg
6%
Magnesium
33 mg
8%

Ingredients

100% Verified Grass-Fed Whey Protein Isolate,
Coconut Oil Creamer, Black Tea Powder,
Monk Fruit Extract, Salt

Contains Milk (99.99% Lactose Free)
Contains 121 mg of Caffeine per serving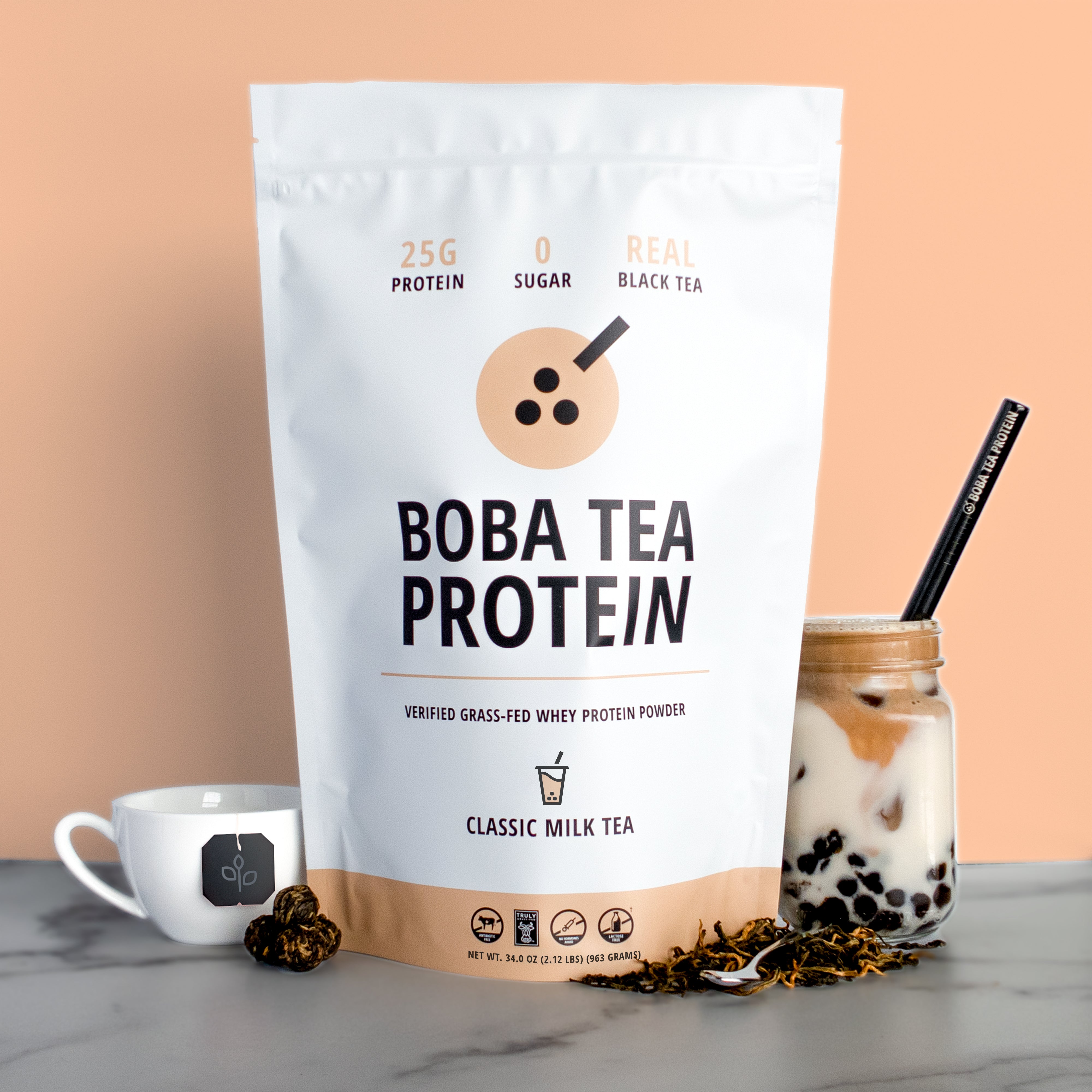 Classic Milk Tea
Sale price

$47.99
Regular price
Choose options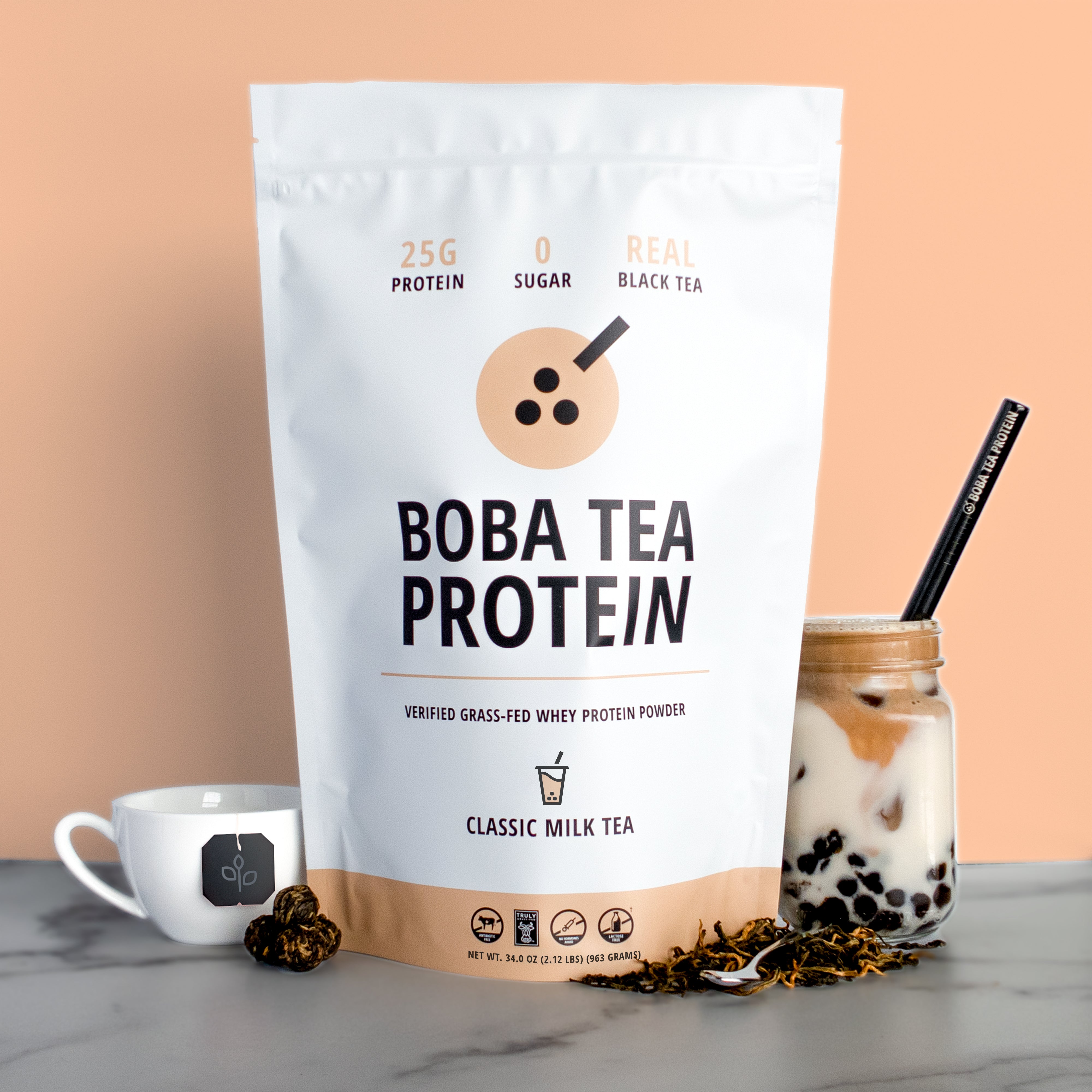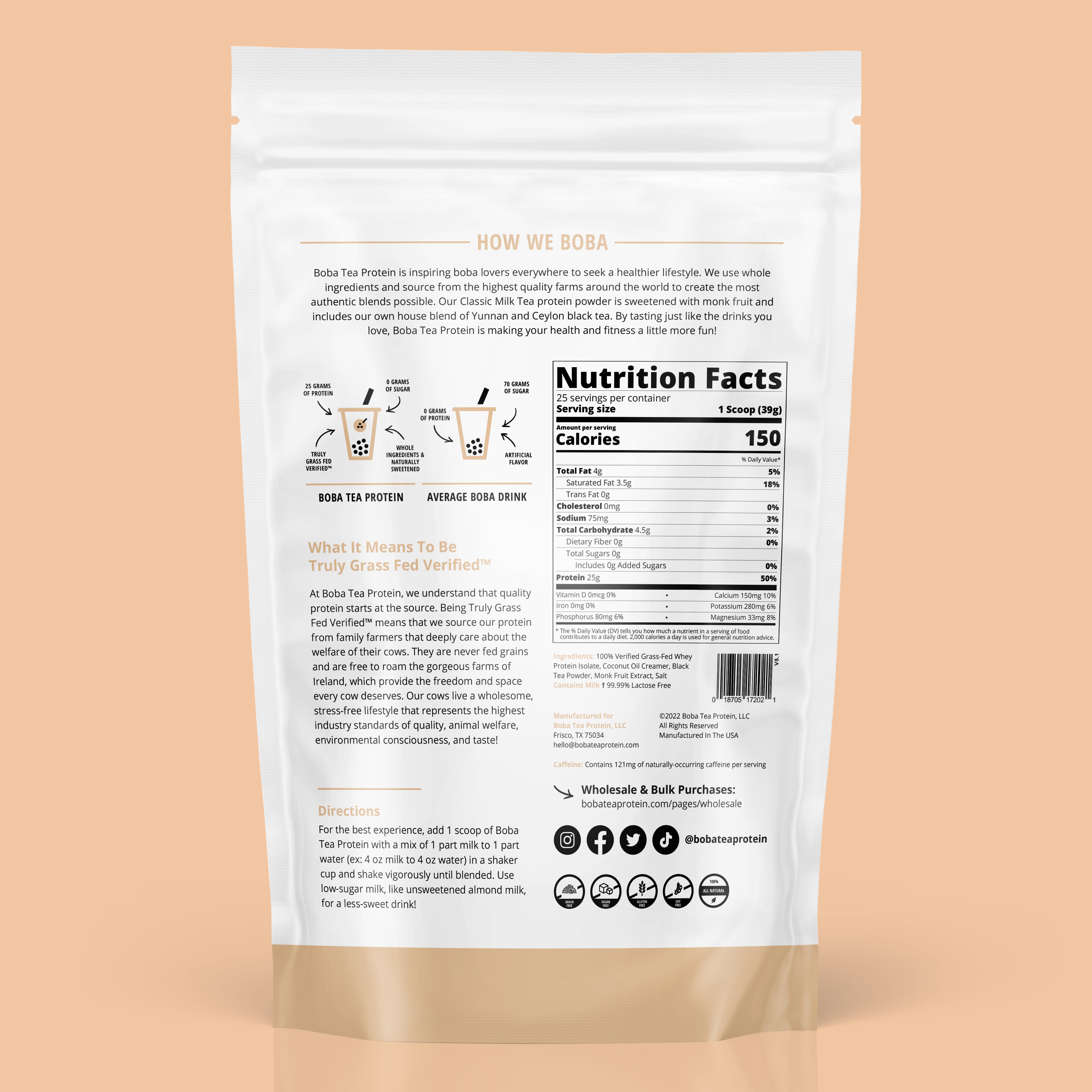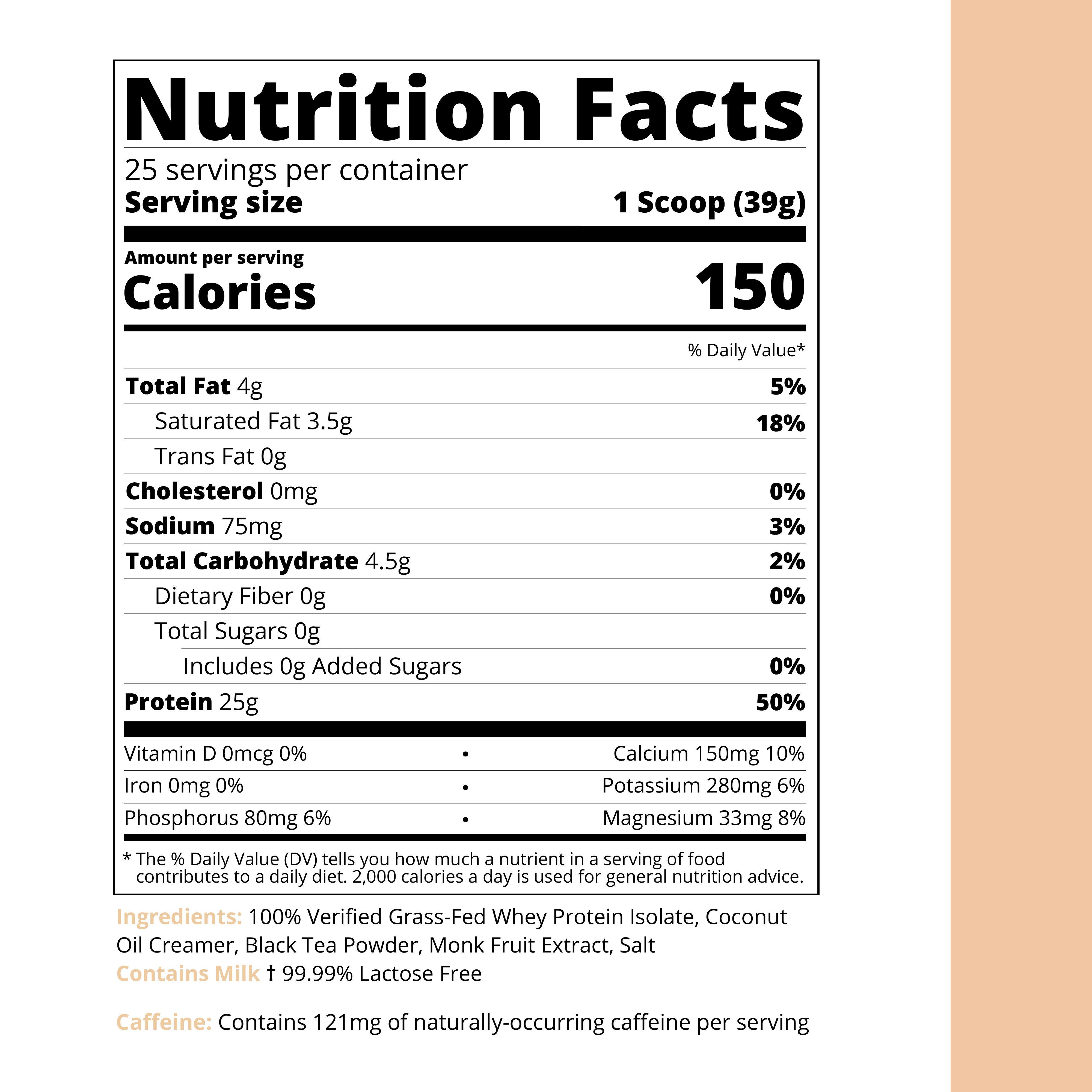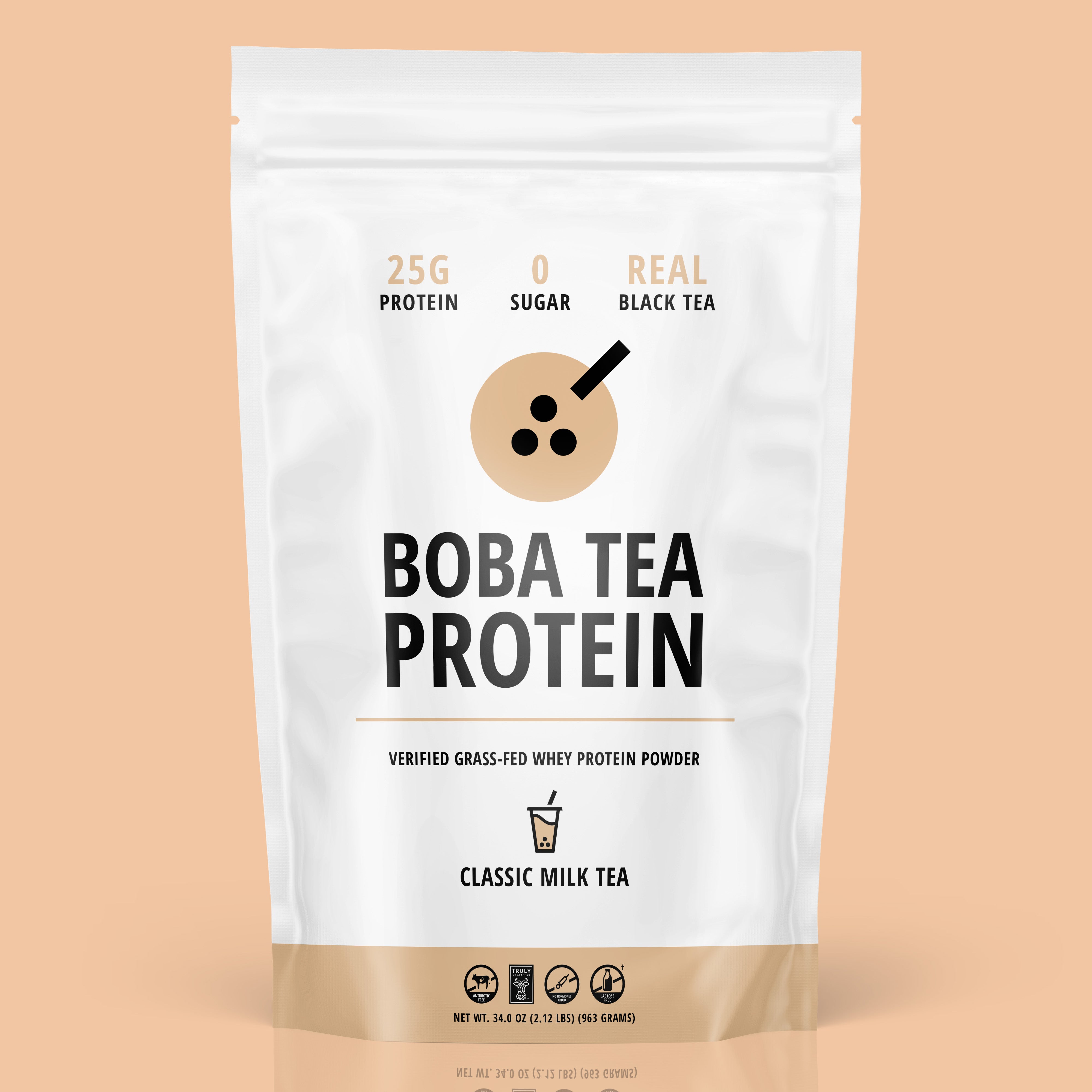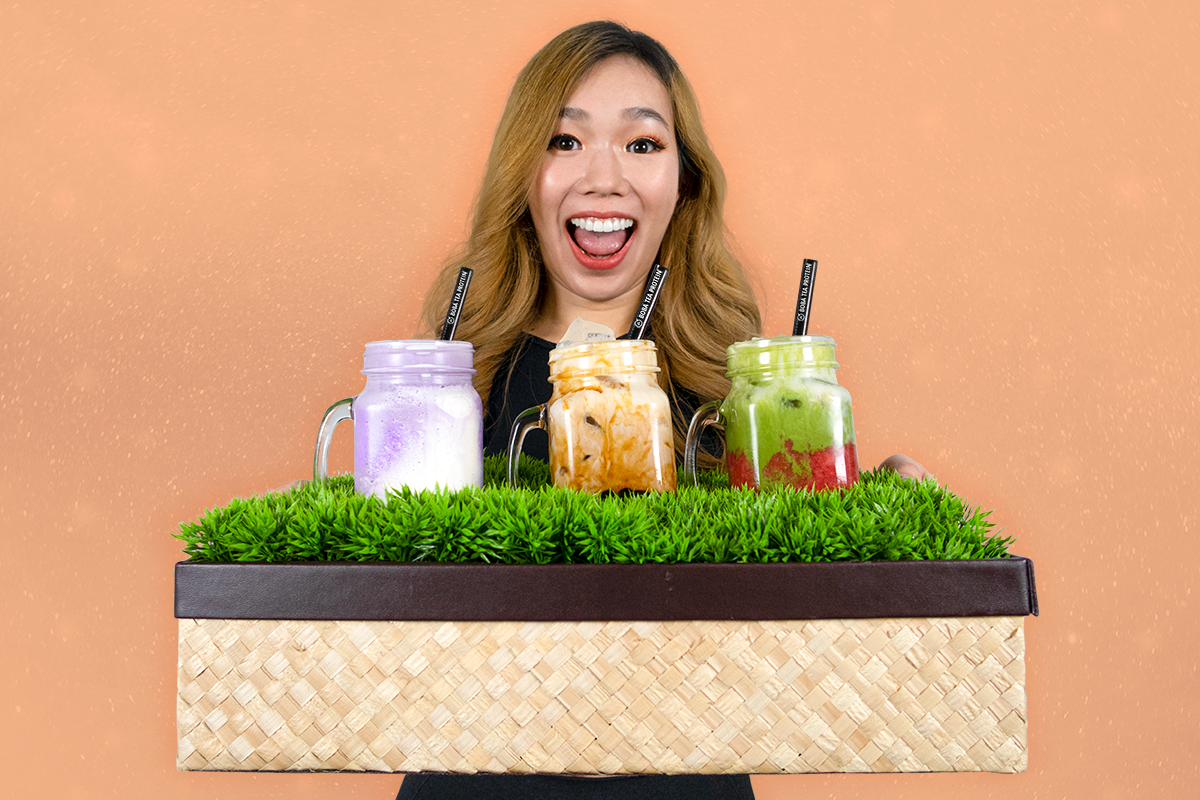 REAL TEA. REAL TASTE.
A Classic Flavor With Added Benefits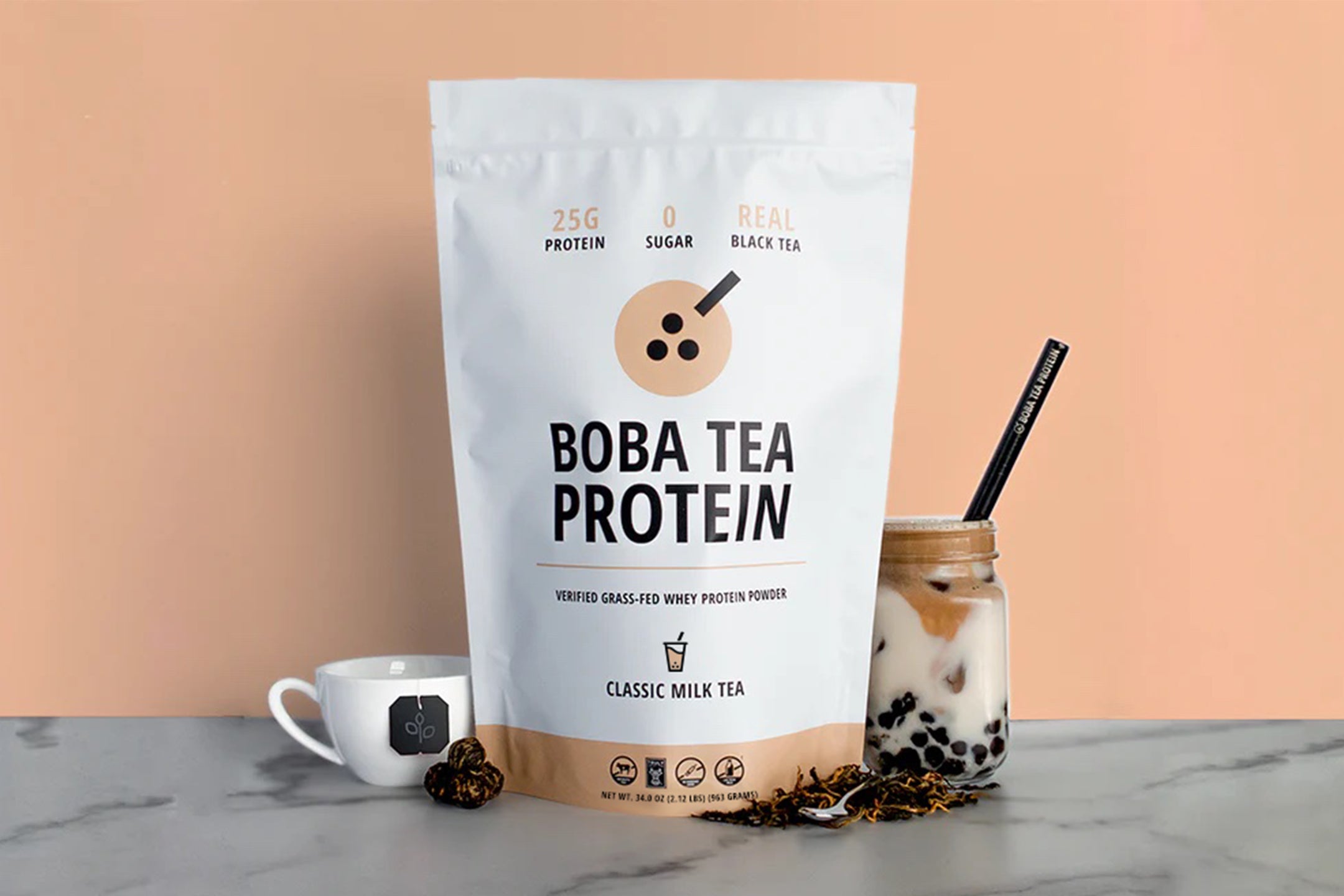 INGREDIENTS YOU CAN COUNT ON ONE HAND
Wholesome Ingredients That Benefit Your Body
Frequently Asked Questions
We only use ingredients that you would cook with at home. Sourcing from ethical farms from around the world, we have achieved the most wholesome boba tea drink you can find.
Our whey protein isolate is sourced from Truly Grass Fed Verified™ cows. These Irish cows live a wholesome, stress-free lifestyle that result in a delicious, nutrient-rich protein drink.
Our Classic Milk Tea tastes as expected of a milk tea from a boba shop serving Yunnan and Assam tea! The only notable difference is that our drink does not have the sugar mimetic but rather a slightly nuttier taste from our all-natural monk fruit. Many people prefer this more wholesome taste and cannot tell the difference!
No. We've explored a few options and none quite reached the level we wanted. This is something that we will be constantly exploring. We do offer tapioca pearls as part of our Boba Bundle or individually, and popping pearls as well!
This drink has no added sugar, and is sweetened with all-natural, zero-calorie monk fruit. Monk fruit is a small, round fruit native to southern China, and is used to sweeten foods naturally without added calories.

Whey protein, fruits, vegetables, and tea powders contain naturally-occurring sugars, so there is a small amount of sugar due to the real ingredients we use.
Our grass-fed whey protein isolate is 99.99% lactose-free, which is great for most with a lactose intolerance. However, please consult your physician prior to use if you have a lactose allergy. Whey protein isolate is the highest quality type of whey protein that is rid of extraneous content that often comes with poorer quality proteins. One of the things that is greatly reduced is the lactose content, a sugar found in most dairy products and cheap whey protein products.